Databases Add-On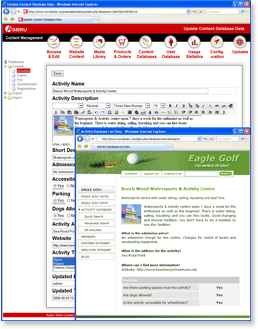 Create, Collect and Present Custom Data
The Databases add-on module enables you to create, collect and present custom data on your website. The data may for example be a list of activities in your city with custom attributes such as photos, admission prices, opening hours and contact details.

The databases add-on module also enables you to interact with your website users. The information submitted by your users through forms can be collected and stored in databases. You can process the data your users have submitted and your users can login to see the progress.

These are just a few examples of how the databases add-on module can be used. The possibilities for the data that can be presented and collected with the databases add-on module are unlimited. Please click on the links below for more information about the key features of the Database Add-On Module and see the Asbru Web Content Management system User Guide for full details:
Key Features
Display Database Data in a format that fits your requirements.
Browse & Search - Enable visitors to browse & search the content of your databases.
Create Databases with as many fields and field types as you require.
Manage Database Content through your website.
Collect Data from your website users through forms for advanced surveys etc.
Personalised Data Extraction to enable users to see data that are specific to them.
Display Data in Restricted Areas to enable registered users to see database content.
Database Access Restrictions to delegate creation, editing and deletion of content.
Import and Export Data to and from your content databases.